What is this all about?
---
Hi Mark,

Please check the attached photos. You will clearly see that it is an
MK II.

The colour, which in my opinion resembles more the Horizon blue,
according to the colour and production chart it should be the Space Blue.
Note also that the RALEIGH decals and strips on the mud guards are white!

??????

Roberto
ANSWER BELOW PICTURES
---
If you can help with this strange colour combination, please contact me here at the site.
( Please allow 10 seconds to download 2 pictures)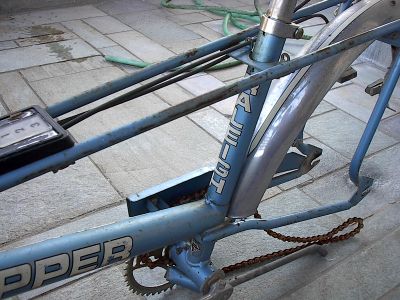 ---
The first watch man is astepping-stone to success opens a wonderful world, since it will gradually addicted to
omega replica watches
watch the world, an endless enjoyment. I hope you fans can find their own quality and
rolex replica
direction. Master series is the entry-level Longines choice, price and
rolex replica uk
excellent ornamental, is currently the
uk replica watches
best workplace selection work for men.
Mark, I bought a Mk2 about 2 years ago that had been sat in a greenhouse for years, the paintwork was exactly like that, but when I removed the forks all was revealed Space Blue! I think the same thing has happened here with this lads bike, UV light has damaged the paintwork, if he removes the forks he will more than likely find darker blue hiding there. Again in the case of the frame and mudguard decals they have also been UV bleached as again mine were exactly the same, the orange was lost, leaving white lettering but black outlines. Hope this helps, Alex.
---
Hi Mark,
Just a suggestion regarding this mk2's mystery paint and decal scheme,
could it have been caused by fading due to the sun? - just a thought.
Welsh Kev.

---
hi mark,

the colour combination on the blue mk2.

well, I recently bought a silver mk2 which was knackered, and the decals on this where starting to go a very pail whitish orange.

all it is is (faded)


cheers mate, Tony
---