The Blue Space Hopper
---
Here we have the Blue Space Hopper, produced in the 60's, these were the start of the Space Hoppers as we know them today. Here are some clips of emails received about the Blue Space Hopper;
1) the blue picture proves that the blue ones exist, its not mine (but I have
one!) - they don't appear much different, except that the instructions on
the box say the red one is for kids, and the blue ones are for adults....
2) I DON'T KNOW TOO MUCH ABOUT THE SPACE HOPPERS , BUT I KNOW THAT THE
ORANGE VERSION WAS PRODUCED DURING THE 1970'S BY THE TOY COMPANY METTOY. THE
BLUE SPACE HOPPERS ARE MUCH RARER AND WERE MADE DURING THE 1960'S BY THE SAME
COMPANY.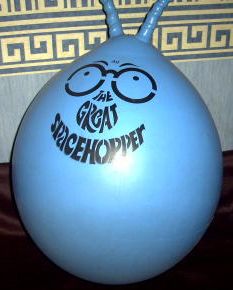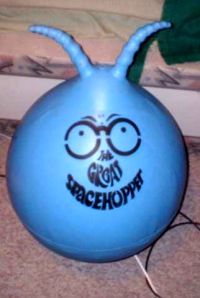 ---
IMPORTANT
If you have any badges, stickers, posters, adverts or anything with a Space Hopper on it, can you please email a picture to this site.