Raleigh Chopper Owners Club BBC Radio Wales
BBC Radio Wales will broadcast the first of 3 70's programmes this weekend the 5th Oct at 12:30 and then the 12th Oct and the 19th Oct 2003. The show will be repeated the following Monday at 18:30 hrs. The Programme is titled Space hoppers, Tank Tops and Me. The Goodies (Tim Brooke Taylor, Greame Gardener) and Jeff Banks all appear on the show with yours truly. Radio Wales can be found at; 882 & 657 MW Digital satellite Channel 867 www.bbc.co.uk/radiowales and find the Listen Live Section on the right-hand side of the Homepage.
During the making of this Programme Hew and Louise from the BBC
decided they wanted to include the biggest 70's Icon of all the Raleigh Chopper.
After a few phone calls a planned was hatch.
First a visit to the guy who invented Bagpus then on to visit us to see some choppers.
It was a fantastic night and Hew was so excited to see a chopper, as he never had one as a child but always wanted one, I wonder were ive heard that before......:)
I would like to thank Jackie (my wife) for the Bay City Rollers input and Star of the show!:)
Louise Booker the producer and Hew Williams the presenter.
Details of the show can be found above, the show is fantastic and anyone into the 70's Music,
Space Hoppers, Choppers, Flares, Clackers etc will find this show fantastic and a Great Laugh :)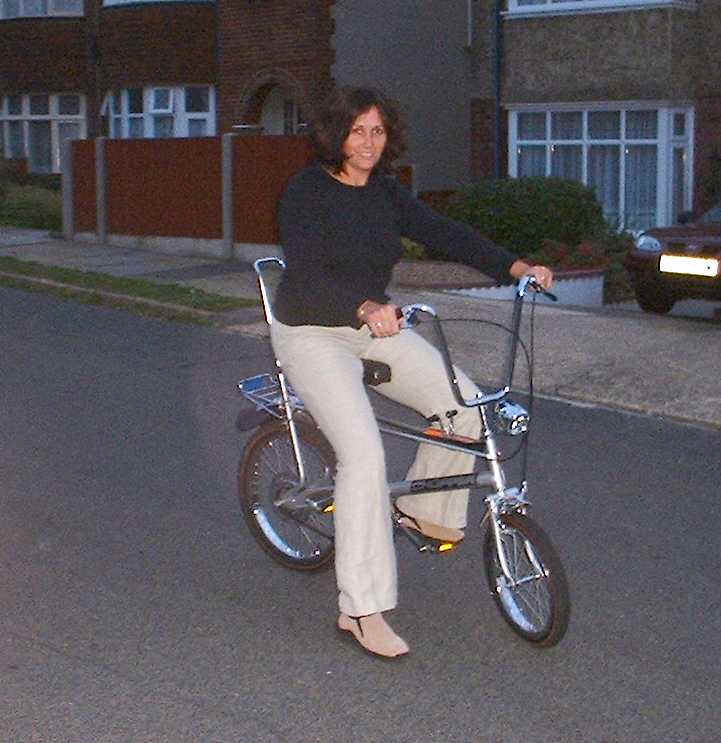 Louise the Show Producer
Hew the Show Presenter and Me
Hew Finally Gets to Ride a Chopper
**************************************
BBC Wales Web Site The day after the broadcast
BACK