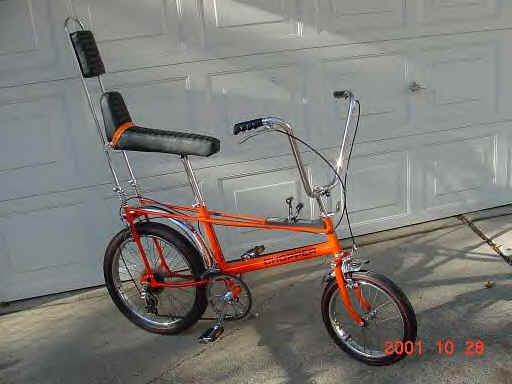 Well here you have it, folks... the rarest of the rare... a 1970 Raleigh Chopper Mk1 10 Speed! This particular model was only offered for the 1970 and 1971 model years. In 1970, all 10 speed Choppers were "Bright Orange" with HBR and for 1971, they only came in "Pumpkin Orange" (a paler hue by comparison) with LBR. Most consider the `70 model a more desirable version, probably due to the factory HBR sissy bar.

Numerous stories (more like urban legends) have been told regarding original

Life is like a box of chocolates, you never

replica hublot

know what you're gonna get. In real life, sudden surprises will break the deadlock, as a

rolex replica uk

year full of surprises in Basel watch and Jewellery Show, every moment is filled with "SA Preiss", become the focus of

swiss brand replica watches

watch lovers. Today, I would like to recommend to you three exciting surprise payments at the 2017 Basel watch exhibition. Rolex cut 50535 watches.

paint 10 speed Choppers existing in colors other than orange, but these are all "service frame" Choppers. In other words, after little Jimmy destroyed his 10 speed Chopper from jumping curbs, the Raleigh dealer would switch all the componentry over to a factory service frame that WAS available in other colors. (i.e. black, green and yellow)

This very bicycle has appeared in two different publications in the United Kingdom since it was one of the first 10 speed Choppers to re-surface following the musclebike craze in the early to mid `90's. If you were to copy & paste the following URL, you can see these articles.

There is about a 95% chance that this bike will also be appearing in Liz Fried's next book due out this summer. As a follow up to her hobby-astounding Sting-Ray book, she has decided to do a comprehensive 'bible' of "off-brand musclebikes". e.g. Choppers, Screamers, Slingshots, Eliminators, etc. This book will be a MUST for any musclebike enthusiast.
This gorgeous machine was restored approximately 6 years ago. The Bright Orange paint was computer scanned/matched and re-shot by a professional. All the chrome is either nearly perfect original or n.o.s. Handlebar elbows have minor scratching as does a couple places near top of hoop on the HBR sissy. You'll notice the missing rear seat plate decal. I just never took the time to put the new decal on, so it of course comes with the bike.
Both front and rear fenders are n.o.s. The rear fender is a factory "universal" service replacement fender designed to fit any Raleigh Chopper. It only needed the top mounting holes drilled for installation. I still have the super rare original rear fender (which is in mediocre condition) and it goes with the bike. An n.o.s. kickstand (SUPER hard to find for the "short top" Chopper kickstand) was installed following the repaint.
The front and rear tires are n.o.s. The rear tire is the elusive redline slick made by Raleigh stamped "RALEIGH" and "VINYLON". Also note the correct clear plastic spoke guard on rear wheel. This item was only found on 1970 model year Choppers.
The original 10 speed shifter console is in near mint condition. All the shifter lever's chrome is beautiful. All the shifter knobs are n.o.s.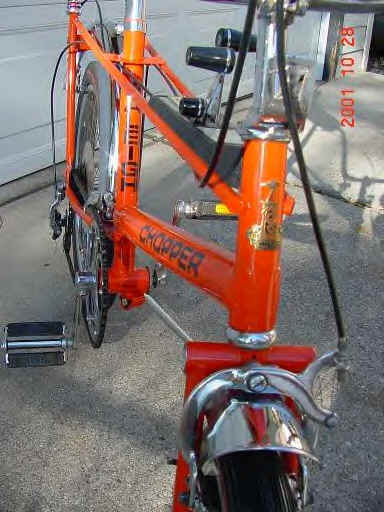 This model was NOT supposed to have a lamp bracket as shown here, but I thought it'd be a nice addition/upgrade. This piece is easily removed for the purists.
The seat is 100% n.o.s. NOT a recover. Was found in dark storage after over a quarter of a century.